These days, receiving a compliment for something I did or made often warrants the response of "thanks, I saw it on Pinterest!" My friends, family, and coworkers have all benefited from the collective brilliance of this visual idea machine. You might think museum is a more appropriate analogy for what is officially a public "pin board"–a place for storing and showing simple ideas–but I say machine because more often than not I don't straight ahead copy a Pinterest idea, it just gets me started in a new direction, and that idea can lead to another and so on. It's great!
Anyhoo, I had been thinking of setting some kind of goal to make myself DO more things I pin, since I have so many, adding more evey day, and I never have the time to do more than MAYBE one a week. Since some are larger DIY projects and others are quick little things I thought I could probably average one a day for a month if motivated by, say, the shortest month of the year. So, this February I'm doing just that.
The month is already flying by so quickly that this is the first time I've sat down to take stock of how it's going. So let's back-track a bit!
Friday the 1st:
Tension rod under the sink for cleaning supply storage. This didn't turn out nearly so well as the original pinner's attempt. I ordered a tension rod from Amazon, and while it fits perfectly, the tension just isn't that great. When I hung the spray bottles the weight was enough to pull the whole thing down. Fortunately, there was an ever-so-slight ledge up higher on the sides of the cabinetry, so I scooted the rod up to rest on that. That was just enough support that it holds the bottles fine, but now it's up so high that sliding the spray bottles on and off is a little awkward because their tops hit the top of the under-cabinet. I may replace the rod with a better quality version at some point, but meh for now! This is what it was supposed to look like: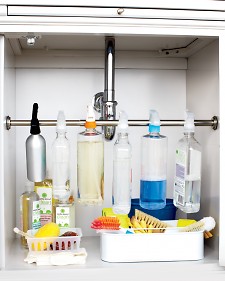 Saturday the 2nd:
I bought some Method foaming hand soap for the bathroom a while ago. When it ran out I bought a refill bag, thinking we'd save some $ and avoid wasting the plastic of the dispenser. Then I discovered that whoops! I had bought their non-foaming liquid soap. Because I was still using the foaming dispenser, it tried foaming it with each squirt, resulting in kind of a weird, sploogey experience. Pinterest to the rescue! Apparently you can make your own foaming soap by just adding water to regular liquid soap. No joke. Just make sure you use very little soap–like an inch–and fill the rest of the way up with aqua. Give it a little shake to combine and blammo: foaming soap! The refill stuff will last us forever now!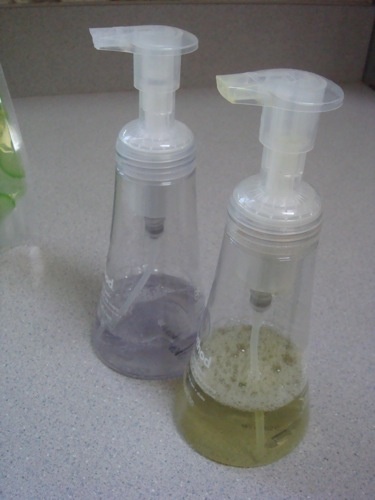 Sunday the 3rd:
This one was kind of a cheat because I had done it before, but these bedtime stretches are great and worth many repeats.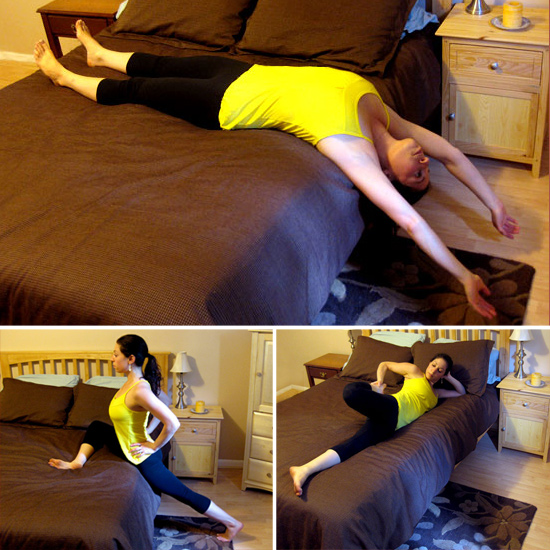 Wednesday the 6th:
Lemon-tahini roasted cauliflower. This turned out delicious but fairly different from the original pin. For one. I have no idea how she got those nice slabs of cauliflower. I suspect she sliced multiple heads and just used the innards because only the "heart" of my cauliflower stayed in one piece. No matter, I floret-ed the whole thing so they'd cook evenly. I served in a warm pita, half slathered with the lemon-tahini sauce (with extra lemon and garlic, duh) and half shmeared with hummus. It was really delicious but only some pieces were crispy like she wrote about. Next time–crank up the heat and serve less time in the oven.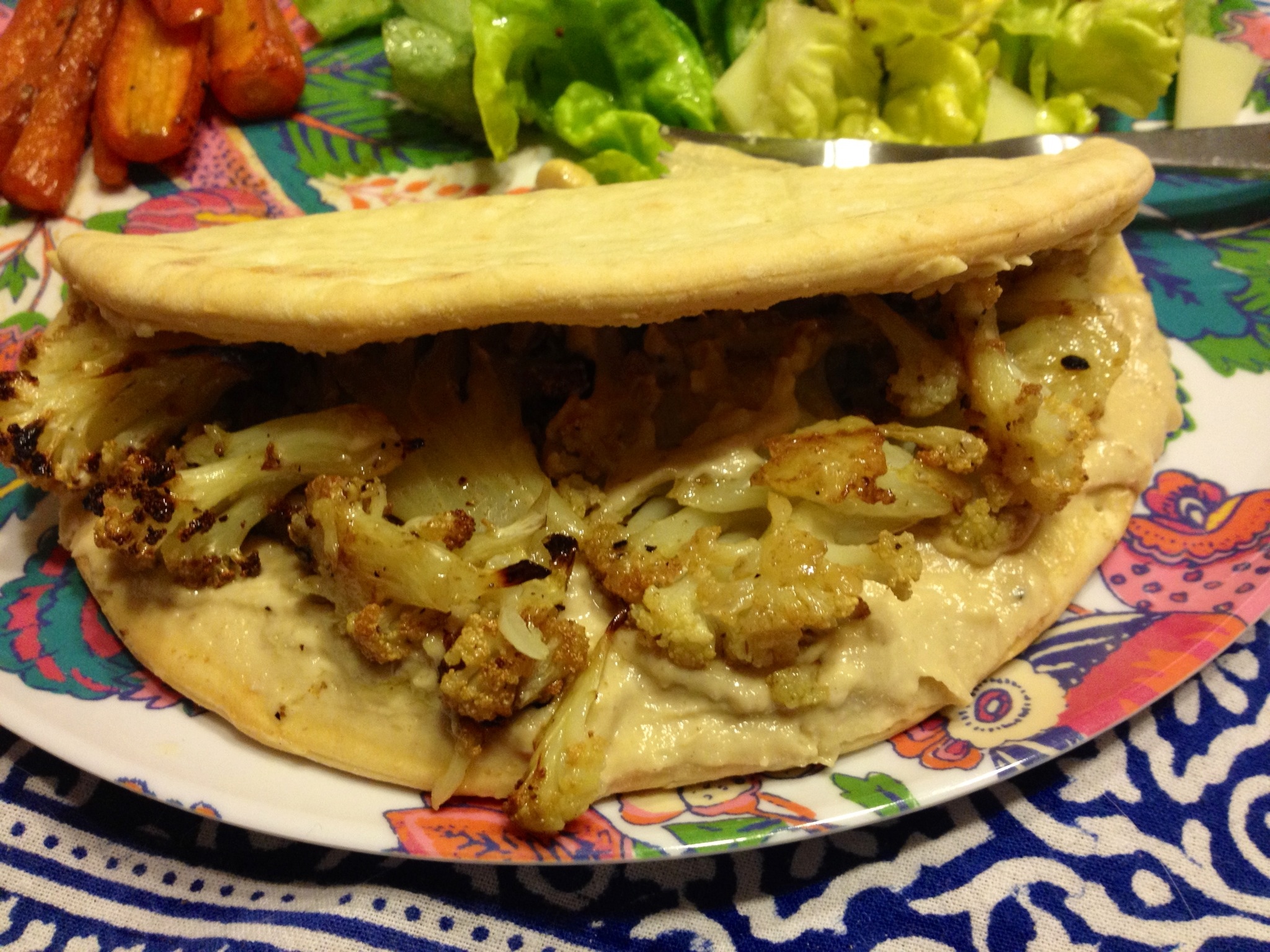 Thursday the 7th:
Crescent roll apple pies! Man these were easy and real tasty. I mixed cinnamon and sugar and spooned it directly onto the full triangle of dough, added a couple slices of apple, then rolled up, pinching the sides up/in, light dusting of more cinnamon and sugar. The original source used butter in the cinnamon-sugar mix but I left it out and didn't miss it. One issue surfaced–the apples didn't have that apple pie consistency because the dough crisped up too quickly to give them a chance to soften. I think a lower temp for longer would do the trick.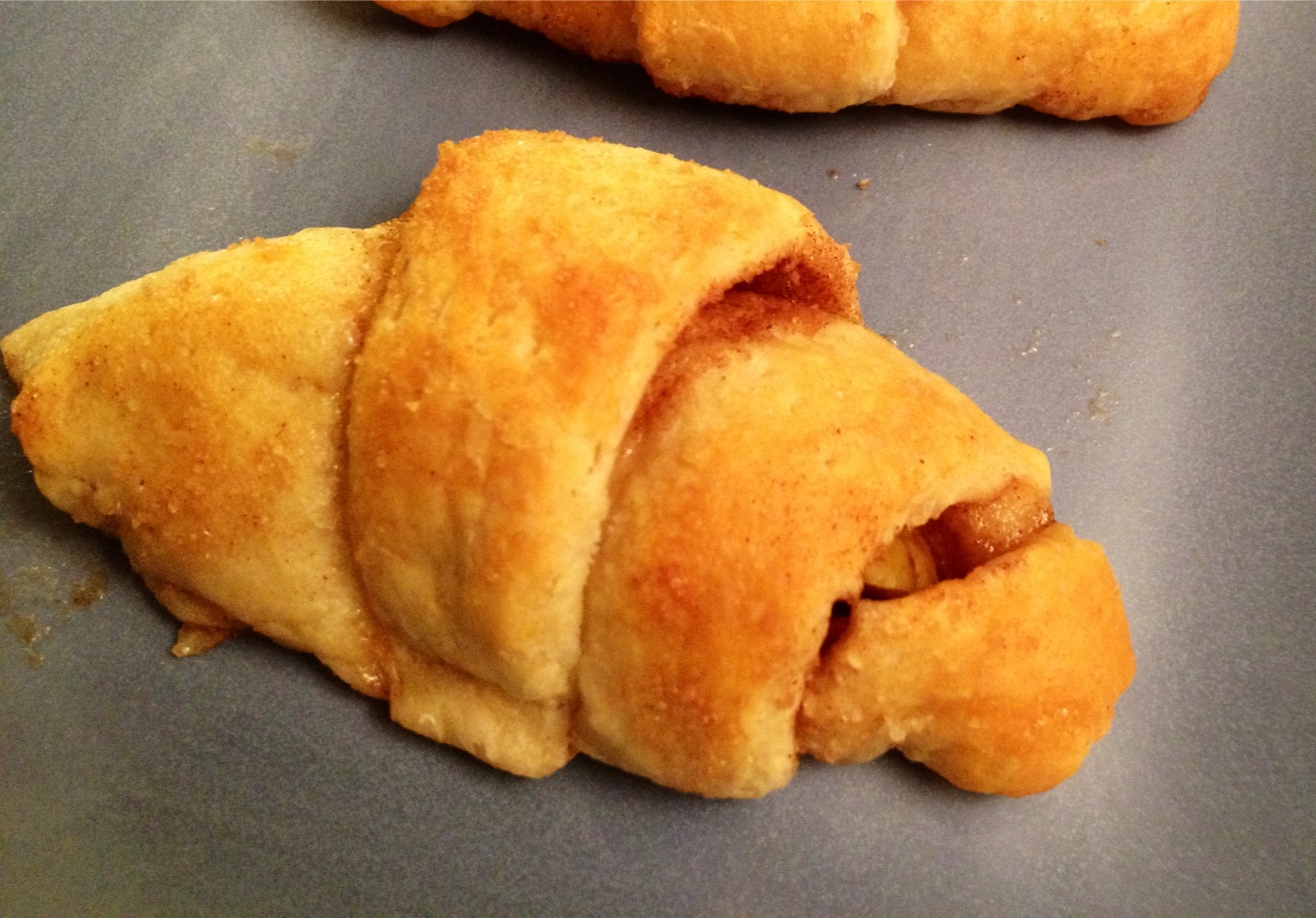 Saturday the 9th:
A year of happy memories jar. Anytime something happy happens–not EVERYTHING because jeez! But the stuff that I want to remember– I'll write it down on a little piece of paper and pop in the jar. At New Year's I'll read them all and remember all the great things that happened throughout 2013. Since I'm starting late I just wrote what I could remember and put them in a Mason jar. Maybe it'll be a good enough year I'll have to upgrade to a bigger container!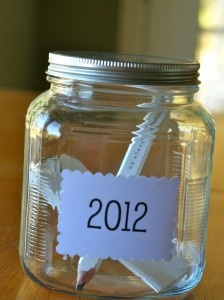 Sunday the 10th:
Good morning yoga sequence.Well, I tried to do all of these–I'm not flexible enough to properly do the 6th pose, and I was really wobbly on the last–but man it still did a good job waking me up and getting my blood flowing. Good morning indeed! 🙂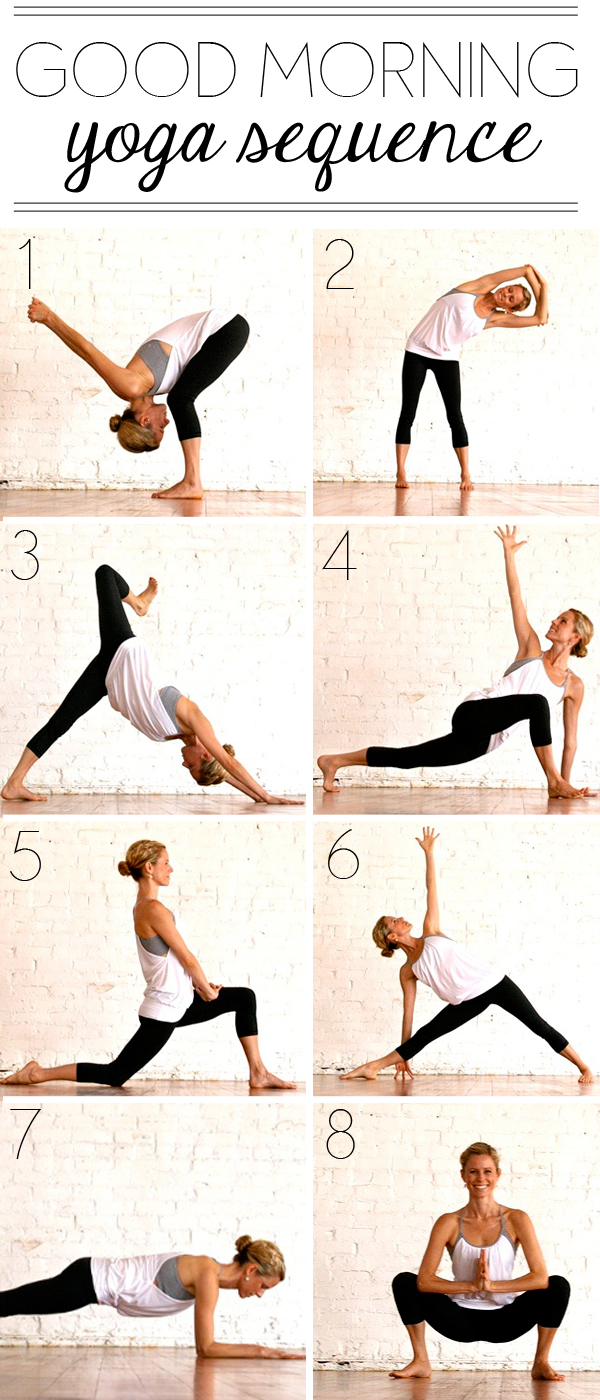 I didn't get anything done the 4th, 5th, or 8th, so I have 3 extra pins to fit in by the end of the month. Fun stuff so far!